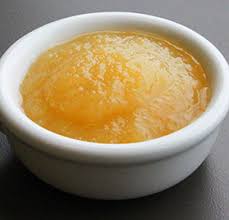 Quick & Easy Homemade Applesauce
Ingredients:
3 cups (5 medium) cooking apples cored and sliced
¼ cup apple juice
2 tsp. cinnamon
2 tbs. sugar or sugar substitute- can also omit sweetener to reduce calories and carbohydrate
Combine apples, apple juice, cinnamon, and sweetener to a 1 ½ quart casserole dish covered.
Microwave for 6-7 minutes on HIGH or until apples are tender. Mash apples by hand or put in a food processor with a steel blade if you prefer a smoother consistency.
Each serving equals ½ cup
Sweetened with sugar: 20 grams carbohydrate, 80 calories
Unsweetened: 15 grams carbohydrate, 60 calories
Jacqueline King, MS, RDN, CDE, FADA
Author: Too Busy to Diet
Available On Amazon.com