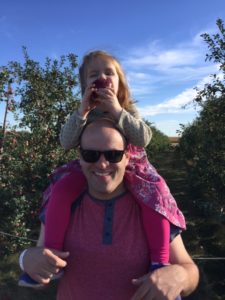 Apple picking is one of the first Fall activities that you think of when the season starts to change. Packing the kids up and heading to the nearest orchard is one of my favorite memories. The kids used to love filling up baskets with different apples and then running into the store to get fresh apple cider
Now that my kids are grown it is fun to see my children doing the same activities with their kids that we shared. My grand-daughter, Nora had the most fun eating the apples off the trees and dripping apple juice on Daddy's head!
Apples are a great taste treat that is high not only in Vitamin C, but also fiber. It is always more effective to teach your children about healthy nutrition by letting them see how the food is grown. And using that food to make a tasty and healthy treat makes their learning even more fun and lasting.
Try the homemade applesauce recipe  that follows that is not only healthy, but quick and easy.
Jacqueline King, MS, RDN, CDE, FADA
Author of Too Busy to Diet
Available at Amazon.com