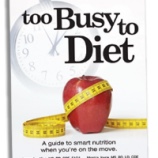 College Kids Return to School
Send them back with a copy of "Too Busy to Diet" (TBTD) to help them navigate their way to eating healthy. TBTD provides college students with healthy
snack ideas, guidelines for easy meals, ways to handle alcohol sensibly, and much more!
"Too Busy to Diet" is written like a travel book to pick up for quick nutrition
questions in spare moments. No need to read from cover to cover.
Written by two Award winning dietitian/nutritionists with over 75 years of combined nutrition experience.
Buy your copy today at Amazon.com
Available in paperback and Kindle forms